Introducing
HeartFlow® Planner
HeartFlow Planner is the only interactive tool that lets you model multiple treatment strategies in real time before you ever enter the cath lab.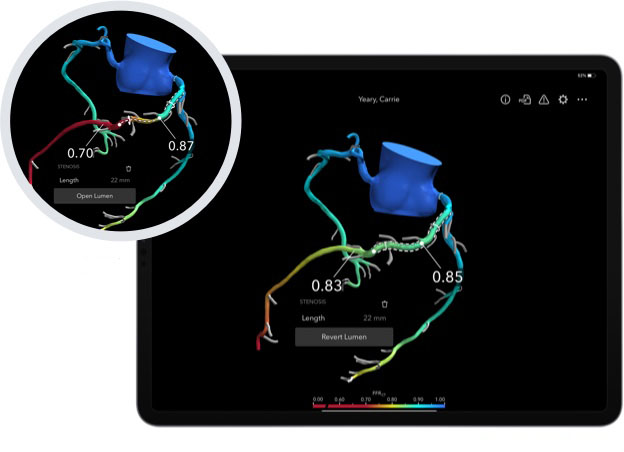 Before
Modeled scenario
The Proven
HeartFlow Analysis
Uncertainty Should Be a Thing of the Past
Today's non-invasive diagnostic tests provide little explanation of chest pain, leading many patients to unnecessary invasive testing.
In fact, more than half of patients who undergo these invasive tests have no significant blockage. 1
Unnecessary Invasive Test Enables clinicians to identify
significant coronary artery disease
and determine the optimal
treatment pathway.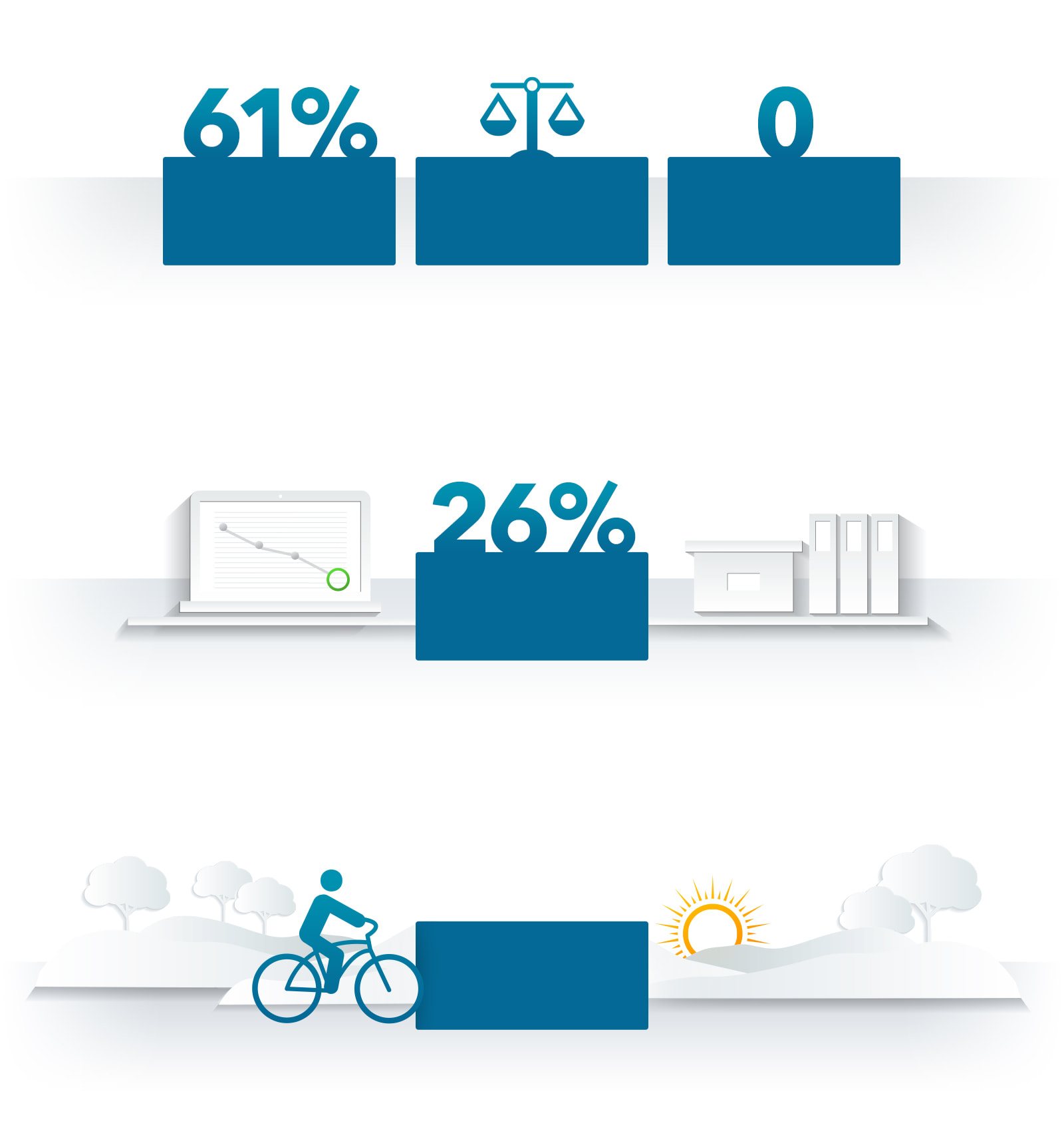 Greatly Reduces Unnecessary Invasive Testing
of patients avoided
an invasive angiogram2
Similar revascularization
rates3
Zero adverse clinical events
among patients whose
angiogram was canceled4
Reduces Healthcare System Costs
cost reduction compared
to usual care testing for
patients with suspected
coronary artery disease5
Improves the Patient Experience
Significant
improvement in quality
of life6
Easy Clinical Adoption
1) Perform coronary CT scan

This standard imaging method captures detailed pictures of the heart and its blood vessels. Coronary CT scans are performed at tens of thousands of facilities worldwide.

2) Upload data via secure connection

Using industry-leading protocols and technologies at every step to ensure protection of patient data, the CT images are securely transferred to HeartFlow.

3) HeartFlow analyzes data

Powerful, cutting-edge computing technology and deep clinical experience are combined to assess the impact that blockages have on blood flow.

4) HeartFlow delivers analysis via secure interface

Analyses are returned to clinicians and are used, along with other available information, to provide a more complete picture of each patient's heart health.
Sophisticated Analysis, Delivered Simply
HeartFlow creates a personalized, digital 3D model of the arteries.
Powerful computer algorithms solve millions of complex equations to assess the impact that blockages have on blood flow.
The result is a color-coded map that aids clinicians in determining, vessel-by-vessel, if sufficient blood is reaching the heart.
Information regarding the Indications of the HeartFlow Analysis can be found
here
.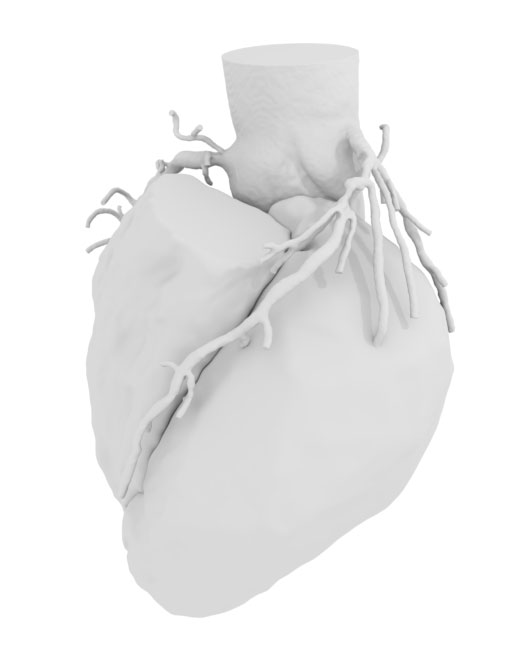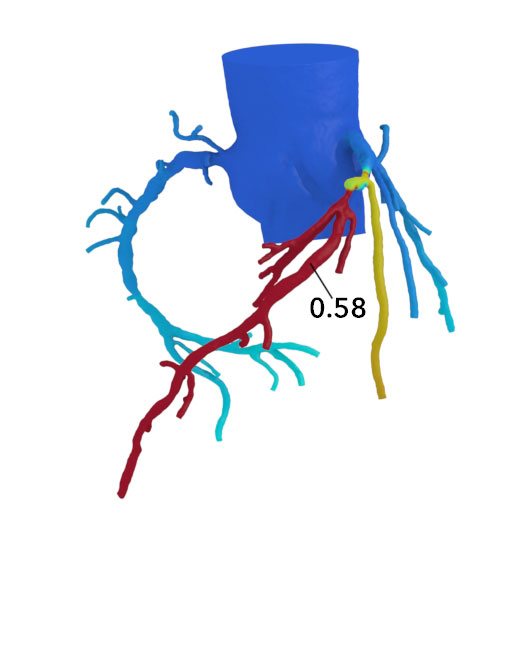 The HeartFlow Analysis may not be appropriate for all patients. If your physician suspects coronary artery disease and orders a coronary CT, your doctor may decide that you are eligible for a HeartFlow Analysis. While no diagnostic test is perfect, the HeartFlow Analysis has demonstrated higher diagnostic performance compared to other non-invasive cardiac tests.1
1. Nørgaard, et al. J Am Coll Cardiol. 2014; Driessen, et al. Presented at EuroPCR 2018.
REFERENCES
1 Patel, et al., N Engl J Med 2010; 362: 886-95.
2 / 3 Douglas et al. Clinical outcomes of fractional flow reserve by computed tomographic angiography-guided diagnostic strategies vs. usual care in patients with suspected coronary artery disease: the prospective longitudinal trial of FFR CT: outcome and resource impacts study. Eur Heart J. 2015;36(47):3359-67.
4 Douglas, et al. J Am Coll Cardiol 2016; 68:435-45.
5 Data on file. In the PLATFORM Trial, the mean one-year per-patient cost for the usual care strategy was $12,145 compared to the $8,127 cost for the HeartFlow-guided strategy, a cost reduction of 33 percent. Not reported in the study results, mean costs remained 26 percent lower among the HeartFlow-guided patients than among usual care patients ($9,036 vs. $12,145, p <0.0001) when factoring in the $1,500 cost of the HeartFlow Analysis.
6 Hlatky et al. Quality-of-Life and Economic Outcomes of Assessing Fractional Flow Reserve With Computed Tomography Angiography: PLATFORM. J Am Coll Cardiol. 2015;66(21):2315-23.
40357922v3